Understated luxury is made manifest with TAH.
OUR STORY
TAH is timeless. Its ever-fresh designs seamlessly accompany you through life's countless moments. These bags conceal many hidden talents—most impressively the namesake handbag able to "tote a heel"—beneath an elegant shape. Confidently carry your everyday needs and memories with TAH.
Angelina Periera founded TAH in 2015 in Portland, Oregon. As a mover and shaker, and a former buyer for Nordstrom, Angelina sought a luxury bag to meet the ever-changing demands of her life. This search often ended in sacrificing quality, function, or style for a bag that still left something to be desired. She believed a beautiful and purposeful modern bag was more than mere fantasy.
Armed with vision and cardboard, Angelina designed a prototype of the signature shoe compartment and matching tote. She has since carved out a space for enduring quality and sharp design to be the real markers of a luxury bag. TAH is sold in its Portland flagship store and over 31 boutiques across the United States.
As a woman and minority-owned brand, the community plays an instrumental role in building TAH. The brand is committed to consciously evolving with the needs of its community and supporting fellow brands that share in its values.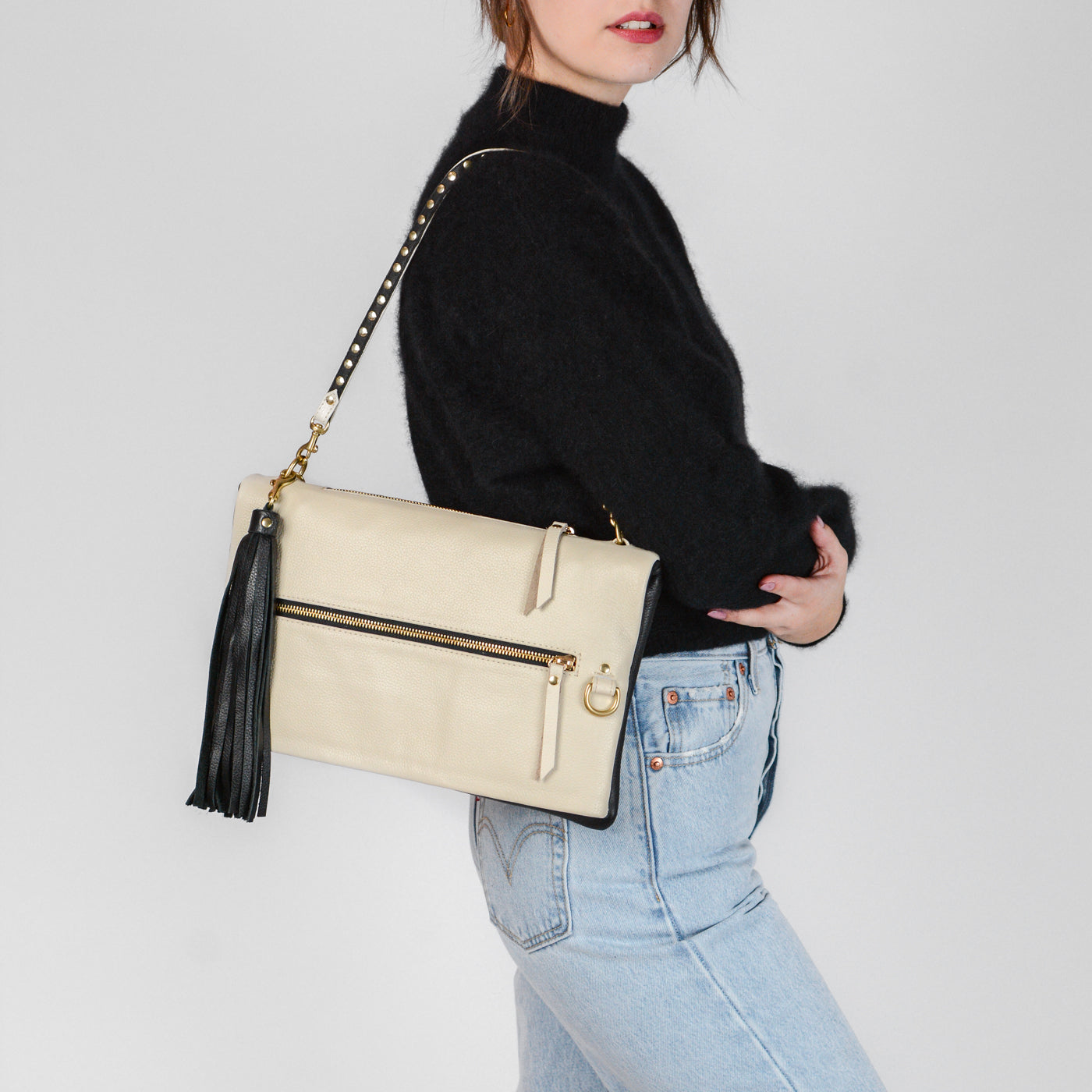 FUNCTION AND FORM
Intentional design rules the day. Your everyday needs are easily supported with maximized organization. Interior compartments carry your water bottle, personal care products, and an umbrella, while detachable pouches safely hold a cell phone, laptop or tablet, various chargers, and the shoe carrier. Particular bags in the collection offer options to move or remove a strap, creating the effect of an entirely new piece.
MADE IN MEXICO
Handcrafted to perfection, each bag receives individual attention from master leather artisans. The collection embodies luxury because this level of detail can only be found in the leather capital of the world, also known as Leon, Mexico.
Intention and generations of inherited knowledge guide every cut, stitch, and seam that's made in the family-owned studio.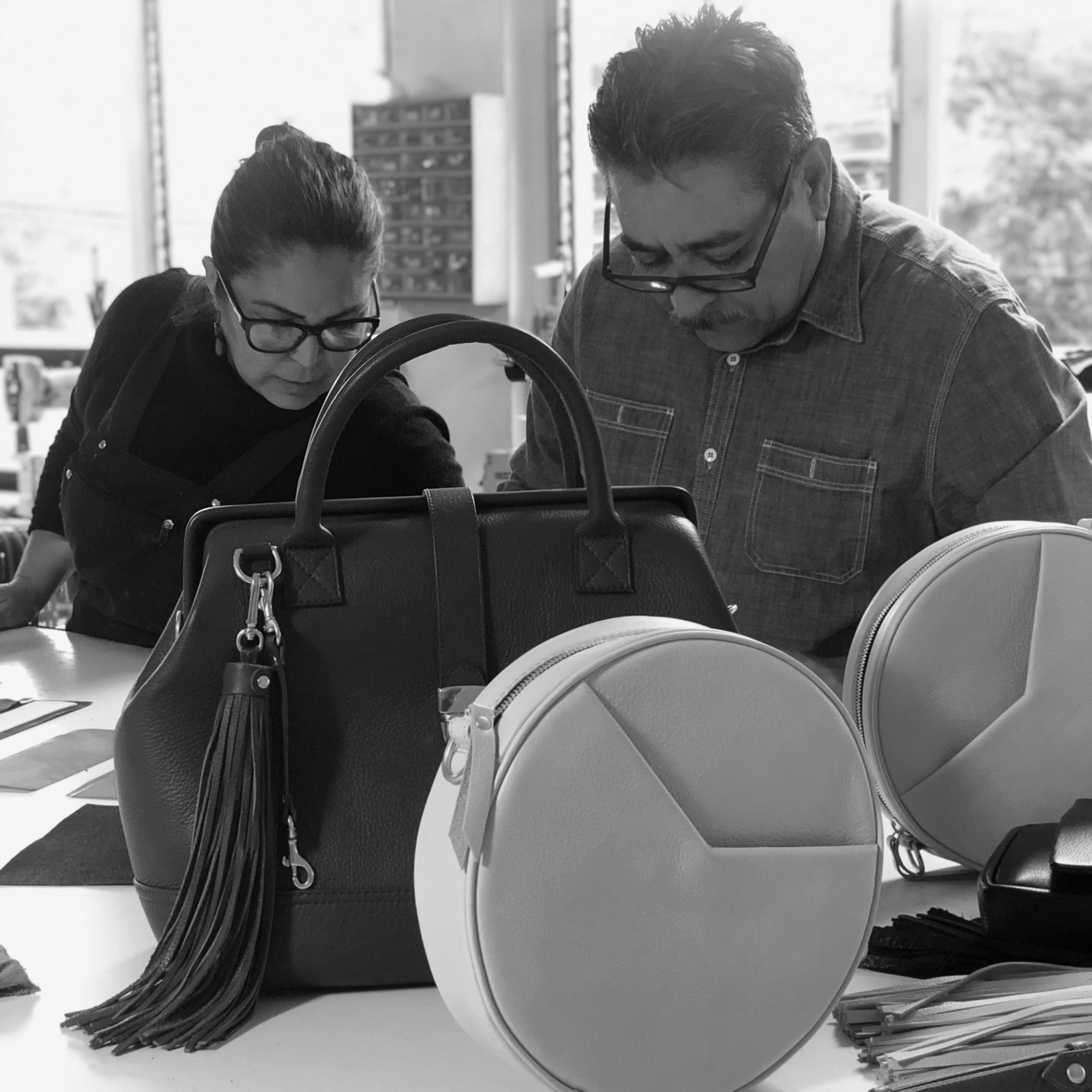 SUSTAINABILITY FORWARD
Heirloom design is a new look for sustainability. Each bag is designed to age well due to the full-grain leather and hardware. The commitment to quality has perfected a process of using intentional design, master artisans, and quality materials. The made to order approach means each piece is responsibly crafted to support real people. Made to last, these instant heirlooms enrich your wardrobe during any season of life.
MADE WITH HIGHEST QUALITY
FULL GRAIN LEATHER
Quality is a smart investment. Full-grain leather has all of the natural grain, making it the highest grade. Working this type of leather requires more effort and finesse to shape it. These bags reflect quality and level of artistry that's worth the investment. A traditional top grain leather is thinner by design to be more workable, wearing it down faster.
Durability is what elevates each bag from seasonal to heirloom. The natural grain contains the strongest fibers in the hide. This gives full-grain leather a durable and unique surface that wears beautifully over time. Traditional top grain leather becomes fragile over time because the strongest fibers are sanded off to print an imitation grain for a uniformed look.
Age is but a number. Full-grain leather develops a striking patina from the natural burnishing and beautifying it undergoes. It tells a story as it ages by forming distinct characteristics that can't be duplicated. Traditional top grain leather receives a protective finish coat to prevent staining, but it also prevents a patina effect.